An oasis of peace and quiet
our B&B Gästehaus an der Sempt
Since the opening of our B&B in August 2010, it is the heavenly peace and quiet which our guests especially appreciate. With the addition of an extra building in the spring of 2016, we have expanded our B&B to include another double room, a 3-bed room and a large family room with 5 beds. All rooms on the first and second floors of the main building and the addition can be reached using our wide stairwell.
We take special care so that you feel comfortable - and a bit like home. All of the rooms of our B&B include furniture that was custom-made by carpenters, giving our house its special charm. Our friendly breakfast room may surprise you with its tasteful decorations according to the season and of course with its ample breakfast.
Good morning sunshine!
We indulge you in our breakfast room, flooded with light, with fresh-brewed coffee, cappuccino, a huge selection of teas, fresh crusty rolls, soft pretzels, croissants, wholemeal bread, ham, sausage, cheese, various jams and marmalades, Nutella, muesli, fruit and breakfast eggs - mix and match as you please, served from Monday to Friday from 7:30am to 10:00am and on weekends and holidays from 8:00am to 10:30am. We have a selection of gluten-free and lactose-free products available upon request.
A beautiful view of the green landscape makes the start of your day more pleasant. And weather permitting, you can enjoy the morning hours to the fullest surrounded by our fruit orchard in all its beauty on our breakfast terrace.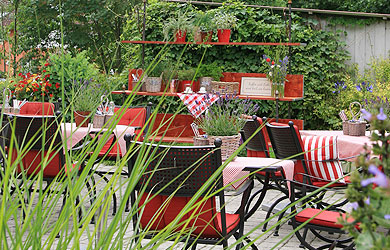 An oasis of relaxation
our garden and terrace

---
Our terrace is surrounded by colourful flowers and a beautiful view of the fruit trees in our garden. You can enjoy your breakfast and relax during the day in the middle of our glorious blooming garden. There is a small playground with a swing and slide available in the garden for the little ones.